I've been wanting to do this post for ages and now it's finally here!
Disclaimer: I'm defo not a beauty whiz, but I know the basics and the do's and donts so I advice that if you are looking for professional help please head somewhere else! This is just me posting on my blog, lets go!
Foundations, BB'S and CC creams.
These are not the only 3 i'll be showing, it's just that these ones could have their picture taken because they're in a clean state.
1. L'oreal Paris Perfect Match Foundation in Cappuccino
This is my main foundation because it's closest to my skin tone, so after a primer (which sadly my friend decided to never return) this is the first thing I apply. I actually only bought this yesterday on sale in Westfield's Superdrug for £5.99. It's not much of a foundation that gives a natural look but then I prefer the shiny, glittery look it gives. If used properly it gives full coverage however I have only tried it on my hand as i'm saving most of it for an christening on Saturday.
2. Revlon Photoready Airbrush effect Foundation
In the above picture I used the revlon photoready foundation to highlight my forehead,
cheeks, nose and cupids bow.
I use this foundation as a concealer for highlighting however that's not what it was meant for but when I apply it to my face it's too light for my skin and makes me look grey and patchy, it's also very glittery and that's not a good combo. I thought it would be good because the colour was cappuccino and most of my face products are either in the colour cappuccino or cocoa. A little shimmer is great, however if I apply this to my skin I start to look like foil which is terrible so for me thats a con. However it work's lovely as a highlight.
3. Sleek CC Cream (Dark)
This foundation was mentioned in Septemeber favourites, so you guys might have heard of it! For me it's used at both a foundation and contour thingy. In the summer I go darker therefore it works as a foundation then. When I'm in winter, spring and autumn it's used as a contour because it's darker than my skin, not that much but about one shade darker so it creates a smooth contour. It was used in the previous picture to contour cheekbones.
4. Fashion Fair oil free foundation
I learnt about fashion fair from my mum because it's the makeup brand she's been using all her life since a teen, they're specifically for women of colour. It's my perfect go to foundation that gives full coverage and leaves a natural glow too. It's very expensive however lately I discovered eBay and it's saved my pocket a bit.
4. Sleek Bare skin foundation
This is my favourite out of all of them, it matches me the best literally! I loved it and now it's finished, however if i'm desperate for it, I know I can always call on my bestfriend. If you're reading i'm sorry for repeatedly stealing your foundation Micha, I love you!
Eye stuff
1. Me Makeover Essentials
I'm not great with eyeshadow therefore I don't have a lot of it, I have a bunch of eye shadows and lip stuff in a little set from "Me" makeup essentials.
Shout out to Charlie Marrie for getting me this for my birthday this year, I love it and it's tiny, portable and cute and comes with mini brushes inside.
2. W7 eyeliner
I've had this eyeliner for almost a year, I bought from a market in Romford and this market stall had the most amazing stuff and it was all so cheap! It was putting boots out of business! This is a pretty good liner, it has quite a thick point, that's good for me because I don't like my eyeliner lines too thin. It's also pretty easy to create a flick with.
3. Rimmel London Kohl eyeliner pencil
This eyeliner pencil, I've had for two years because I don't use it as much the liquid ones. It's great for creating a dark smoky eye and blends better than a liquid one would with eye shadow. Most of the time when I've worn this eyeliner I've had a bold eye shadow to back it up because I have this eyeliner in Jet black which is really dark so the contrast is needed on a dark skinned person like me to really make things pop.
4. Miss sixty 24 hour pump up booster mascara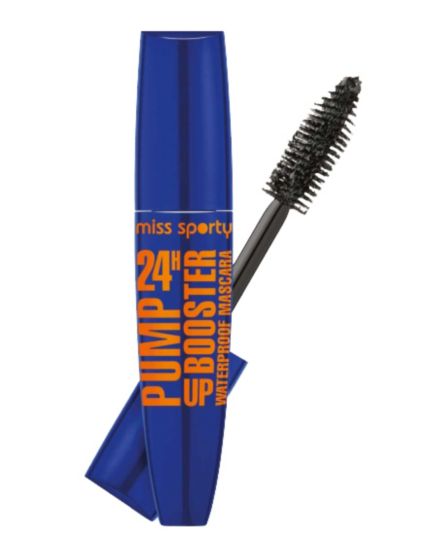 This is one of my favourite mascara's, however the only downfall is that it takes ages to dry and it's really wet, so if you are the type to just want to put makeup on and go in the mornings without letting it set it is probably not for you. It's really cheap, I think it is £2.99 in Superdrug.
5. Rimmel London Lash Accelerator
I've had this mascara for about two years, it's almost finished but I like using the brush to separate clumps. It's incredibly cheap and you get it for free when you spend over a certain amount in some shops but usually it's just £1.99.
6. Collection Supersize Fat Lash Mascara
I've actually never used this lol, It's just there for an in case. I didn't check and I bought it brown, which puts me off and that's part of the reason I don't use it.
7. Lash Double Volume edition 40
I have a few of these from superdrug and I love them!!! Easy to apply, the glue actually holds! Also they're inexpensive.
Lips
1. Mua Makeup Academy Lipstick in Shade 10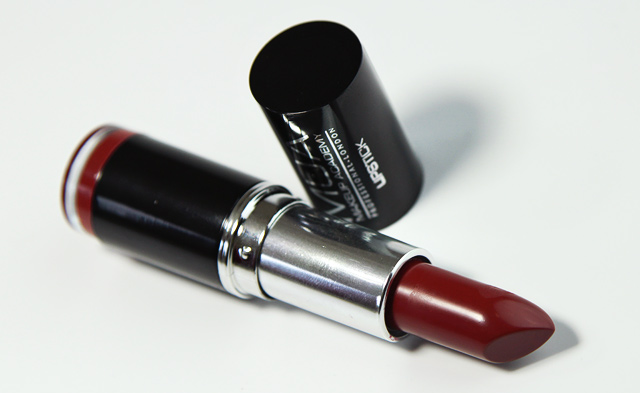 I bought this lipstick from superdrug for just a pound and it was a bargain because I love this colour, dark reds and purples suit me so it's great.
2. Fashion Fair Lipstick in the colour Grapesicle
I adore this lipstick because it's just wow, the colour is such a fall colour and looks great on dark skinned girls like me.
I don't do my eyebrows much so usually when I do makeup they're just there undone lol, but I like them nice and natural. Thanks so much, if you have any product suggestions of what to buy please comment below, if you think you have any post ideas please comment below and just generally comment on the post. Please don't forget to leave your blog address so I can check your blogs out and follow them.
Song of the day: Sarkodie ft Paedae - Oluwa is involved