Hi everyone. Are we all good? I am! Today I'm going to be telling you about what I really, really want! I can't get these all in one go so I've been trying to get them bit by bit! Quite a lot of cash!
Faber Castell Polychromos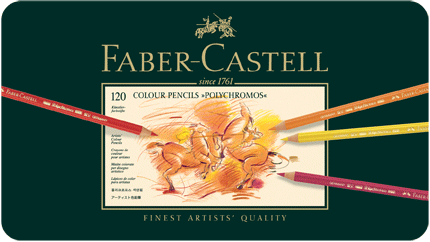 These pencils are BAE! I have been dying to get the full pack but I just can't afford it! I love Faber Castell as a brand. Amazing quality pencils, they make you look good even if your the worst drawer there possibly is. Blendable, so presentable in there posh tin... They're lovely. At the moment i'm using Faber Castell Classic Colour set of 24 and Derwent Studio 12 set for my pencils, they're really good too.
2. Copic Ciao Markers
As alternatives to these I use Letraset promarkers. I really want to try these markers out. Where as a promarker would cost around £1.50-£2.00 a Copic would cost £2.00-£3.00 for one pen! I'm gradually working my way there. When these finish you also have to buy refills so it's not cheap. I do find that when I look at copic markers there skinny tip has more of a brush tip with means more freedom with the pen and less wrist movement.